"Global Maritime Distress and Safety System (GMDSS) Simulator".
Vox Maris is an advanced simulator for Global Maritime Distress and Safety System (GMDSS) operator training, designed to comply with the regulations and recommendations of the International Maritime Organization (IMO), the International Telecommunication Union (ITU), the International Convention on Training, Certification and Watchkeeping for Seafarers (STCW'95) and the International Convention for the Safety of Life at Sea (SOLAS).


With more than 25 communications and navigation devices and an agile Scenario Editor, Vox Maris is able to create emergency situations and equipment failures to maximize the learning experience. In addition, all conditions affecting maritime communications, such as noise, filters, attenuation and schedule, are reproduced with maximum realism.
Vox Maris has two modules, Instructor and Student, giving each role the necessary resources for training, skill development and real-time control to monitor and evaluate the performance of each student. It is available in English and Spanish, with specific development in native language.
Software and hardware for common use, without the need for dedicated audio simulation equipment.

Allows to support the technological and regulatory evolution of GMDSS without the need to reacquire new versions of the simulator.
Used by more than 150 universities, schools and maritime training centers worldwide.

Professional support and advice

More than 25 upgraded communication devices

Simulation of equipment and common situations in real time (Listen to communications, view student screens, take control remotely, observe device status, record video of actions)
Its scenario editor allows: Graphically locate ships, shore stations, AIS targets, etc. Create events that lead to decision making, generate failures in communications equipment, transmit pre-recorded audios, broadcast DSC messages of different categories, transmit NAVTEX/SafetyNET messages and activate SARTs, AIS-SARTs and EPIRBs.

Vox Maris meets the standards and recommendations of the IMO, STCW '95, ITU and SOLAS and is certified by the world's leading classification society Det Norske Veritas  as GMDSS Simulator Class A and the Association of Marine Electronic and Radio Colleges (AMERC, UK). In addition, it is approved by prestigious maritime authorities: General Directorate of Merchant Marine of Spain, Argentinean Navy, DIRECTEMAR of Chile, Polish Navy and Maritime Authority of Indonesia, Panama, among others.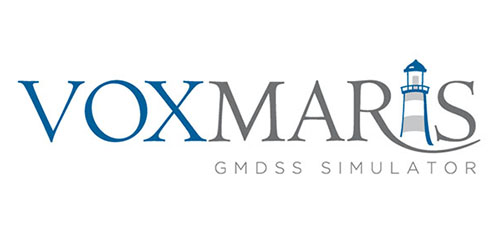 Certifications
International Certifications

Approvals issued by Maritime Authority of Spain
Directorate General of Merchant Marine

Approvals issued by maritime training centres of the Argentinean Navy

Approvals issued by maritime training centre of Polish Navy